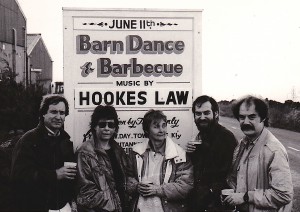 Hooke's Law was a ceilidh band operating in West Yorkshire with occasional forays into other bits of the UK. The line-up was:
Janet Kerr: fiddle and Banjo
Chris Partington: fiddle
Chris Coe: Hammered Dulcimer
Mike Hockenhull: Banjo
Johnny Adams: Keyboards
The repertoire was mixed, some of it coming from the New Victory Band/Red Shift direction and a sizeable chunk from the collecting and recording done by Janet Kerr in West Virginia and North Carolina. Thus, tunes from northern English sources like Willy Taylor, Will Atkinson, Joe Hutton, Ned Pearson etc. were bedfellows with tunes from Stella and Taylor Kimble, Henry Reed, Kyle Creed and others.
The band went into the studio and recorded an album which, inexplicably, they decided not to release. Looking back it was an excellent piece of work and may well be released soon, and might well also include some live recordings made with Pete Coe calling.