Original Members:
John Adams*Suzie Adams*Pete Coe*Chris Coe*Roger Watson*Helen Watson*Ian Wordsworth*Linda Wordsworth
Interim Member: Mel Dean (RIP)
Final Line-up: John Adams*Suzie Adams*Pete Coe*Chris Coe*Roger Watson*Helen Watson*Pierce Butler*Peadar Long*Linda Wordsworth
Below is the story as explained in the sleeve notes on the retrospective CD – a combination of the original vinyl album 'One More Dance & Then…' and tracks recorded on the band's final continental tour.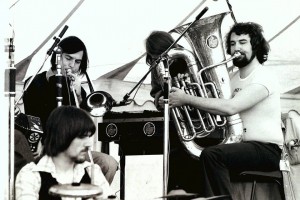 Why The 'New' Victory Band?..is a question few people ever asked at the time, but here, after 20 odd years, is the answer anyway. The (original) Victory Band was actually several bands who recorded 7inch 78's for Woolworths between 1928 & 1931. They sold for sixpence & the recording quality was dire even though the musicians were distinguished (one band included Mantovani ). Side 1.usually featured a popular song of the day, but to save money on royalties, side 2. revealed quirky arrangements of out of copyright classics and often traditional tunes. It was here that we first heard The Harry Maquilty Band (one of The Victory Bands) do battle with Petronella & The Galopede in an arrangement closer to Spike Jones than The Royal Scottish Country Dance Society. So, duly inspired, we nicked the
name & arrangement!
There were several bands during the '70s looking for a different approach to playing country dance tunes & dancing, than was current in the EFDSS Dances. Going back to listen to traditional musicians like Bob Cann & Scan Tester was a good start. Remembering that these were social dances, not a precious art-form, gave licence to all sorts of creative cavorting. It's interesting that many of these new bands came out of the folk clubs. Singers started playing & dancing & the old dance – club 'dawncers' slunk away in disgust.
Of these new bands, Old Swan, Flowers & Frolics, Umps & Dumps, Pump & Pluck seemed to focus more on Southern English styles & repertoire. The New Victory Band developed a more Northerly aspect, listening to recordings of George Tremain, Ned Pearson, Adam Gray, Willy Taylor & Will Atkinson.
We were also influenced by The Morris Motor Works Brass Band, early recordings by Jimmy Shand, Adam Rennie & Andrew Rankine. The late Mel Dean was a member for a while & he passed on some good tunes too.
Bill Leader took us up to one of the Dales Dances, where we danced all night to Peter & Mary Beresford & came back with Old Time Dances including The Dinky One Step, The Rosetta Two Step & The Ideal Schottische. These went straight into our repertoire, usually demonstrated on the dance floor, giving Roger & Linda a chance to ham it up or allowing Pete & Suzie to glide effortlessly and elegantly to rapturous applause!
Whilst we displayed impeccable taste with tunes & dances, it has to be said, that in our quest for songs & novelties, for interludes & concerts, we seriously endangered our reputations as serious folk musicians. We discovered a common weakness for Music Hall & Vaudeville Songs, the comic, the tragic & the pathetic. We were there & dressed for the occasion. Why the stage costumes? Were they an expensive joke? We were presenting a show & villagers round here thought we were very smart, often complaining that other bands were 'scruffy', If you can't get dressed up, doing what we were doing, it's a poor do! Anyway, they looked good in photos. Chris made the costumes, so it's her fault.
So, we recorded the album for Topic in 1978 & there followed an endless round of festivals including Cambridge, Towersey. Loughborough & Whitby, ( where the manager of The Spa offered us a Summer Season ) & concerts & dances all over the place.
At this point, many ex-members of the band may wish to consult their lawyers. For some reason our Christmas Shows were booked in at Cecil Sharp House for several years. For these occasions we dug( or sunk ) even deeper. Who can forget the angels who appeared unto Pete & Chris singing Will The Angels Play Their Harps For Me?Then Muppets interfered with Pierce during Just A Song At Twilight whilst the dry-ice got caught in the prevailing currents from the harmonium, altering the pitch of the reeds & enveloping John who was playing & pedaling through low-lying clouds.
Who can forget Helen as Prince Charming in our Panto?, slapping her thighs with an enthusiasm shared by the audience & Roger, as The Fairy Godmother, possibly the most photographed stage-entrance in theatrical history. Well, for many years we've been trying to forget, but the photos are worth serious money. At least we got paid for it, at the time, which is not much of a defence but there's no remission for good behaviour, not that we ever tried that either.
Whilst we enjoyed considerable success at home, it was our work abroad which made most impact. Roger is multi-lingual (except when wearing a tutu) so one night he'd be calling dances in French, the next in German, then Dutch, even Hoeilaart Flemish. Our agent, Leon Lamal, was impressed by our versatility & said he could put us anywhere, & frequently did. We played festivals in Rotterdam, Tonder,  Brussels,  Antwerp, Ghent, St Jean de Maurienne & other places we can't spell. In Ghent we had to earth our PA system to the tramlines behind the cathedral &, the following day to a church lightning conductor. In Antwerp we found ourselves providing musical accompaniment to a fascist demonstration with riot police in hot pursuit. After our gig in St Jean de Maurienne, at 2 o'clock in the morning, we asked for directions to our hotel. 'Just down the main road, take the first right, about 10 k.' However, the last 7k was more or less vertical to take us up to the summit of the downhill route of the Tour de France. Peader, a reformed cyclist, made us get up early to shout 'Allez Kelly' as a yellow jersey shot by.
We spent Bastille Day, high in The French Alps, where the organiser insisted that we took a rest every 20 minutes because of the altitude. And throughout this tour, Pierce turned pale every time a red 2CV came into view, but that's another story.
By the end of this 5 week tour we'd all had enough &- the band members all had other things to do. Bear in mind that during all this time Roger, Helen, Suzie & Johnwere also working as Muckram Wakes, Pete & Chris as a duo & with Nic Jones & Tony Rose as Bandoggs. No wonder we were knackered.
'Years have rolled by since it happened' &, we've resisted requests to re-form. Many of the tunes & dances we popularised at the time are still current. Several members have changed their surnames in an attempt to disown their former identities, Others have been genetically modified.
We know who you were, we know where you live.
Words by Pete Coe, Ripponden, April 2000