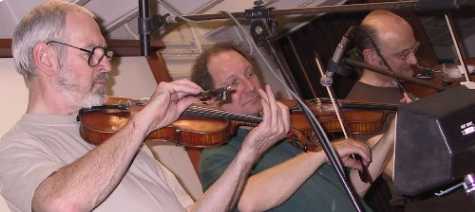 Our Northern Branch is a four piece occasional dance band with 3 fiddles and a cello. The repertoire is mostly English and much of it is taken from 18th and 19th century fiddler's manuscripts. These documents have been uncovered and collated by the Village Music Project and all three fiddlers have contributed to the study, along with many other volunteers who support the project.
VIDEO:
Our Northern Branch with caller Pete Coe at Waring Green Community Centre, Brighouse, West Yorkshire, UK on December 12th 2002.
The dance is The Morpeth Rant and the tunes are both variants of the Morpeth Rant tune, the first being a well known version and the second one being derived from that played by Tom Hughes, the border fiddler. The cello player is Dee De Witt and the piece was filmed by my very good friend, the late Barry Callaghan.